Frankfurt, Brussels (3/7 – 27)
France has been plagued by multiple outbreaks of rioting following mass protests over the death of a teenager at the hands of a police officer last week. The death of Nahel M. (17), teenager of North African descent, has stoked anger among the public at police violence against minorities and exacerbated existing racial tensions in France.
Protests have spread beyond the capital city of Paris and its suburban areas, to other major cities, including Lyon, Marseille, Le Havre, Toulouse and Nantes. On Sunday (2/7/2023), a day after Nahel's funeral in Nanterre, 719 people were arrested in a sweep according to the AFP News Agency. The previous night, French police had arrested more than 1,300 rioters, some 45 police officers were injured, 577 vehicles burnt and 74 buildings invaded and looted. At one point, there were numerous fires on the streets and in public spaces, at a whopping 871 locations.
Vincent Jeanbrun, Mayor of the Parisian suburb, L'Haÿ-les-Roses, reported that his home was attacked early Sunday morning, calling it "an assassination attempt". His wife and two children, ages 5 and 7, fled to safety through the back yard, with the mayor's wife sustaining a broken bone while escaping. Police discovered a Molotov cocktail in a Coke bottle.
Nahel was shot by police in Paris on Tuesday (27/6/2023). A video footage of the scene of the shooting showed Nahel speeding off in his yellow Mercedes AMG almost hitting an officer and other vehicles.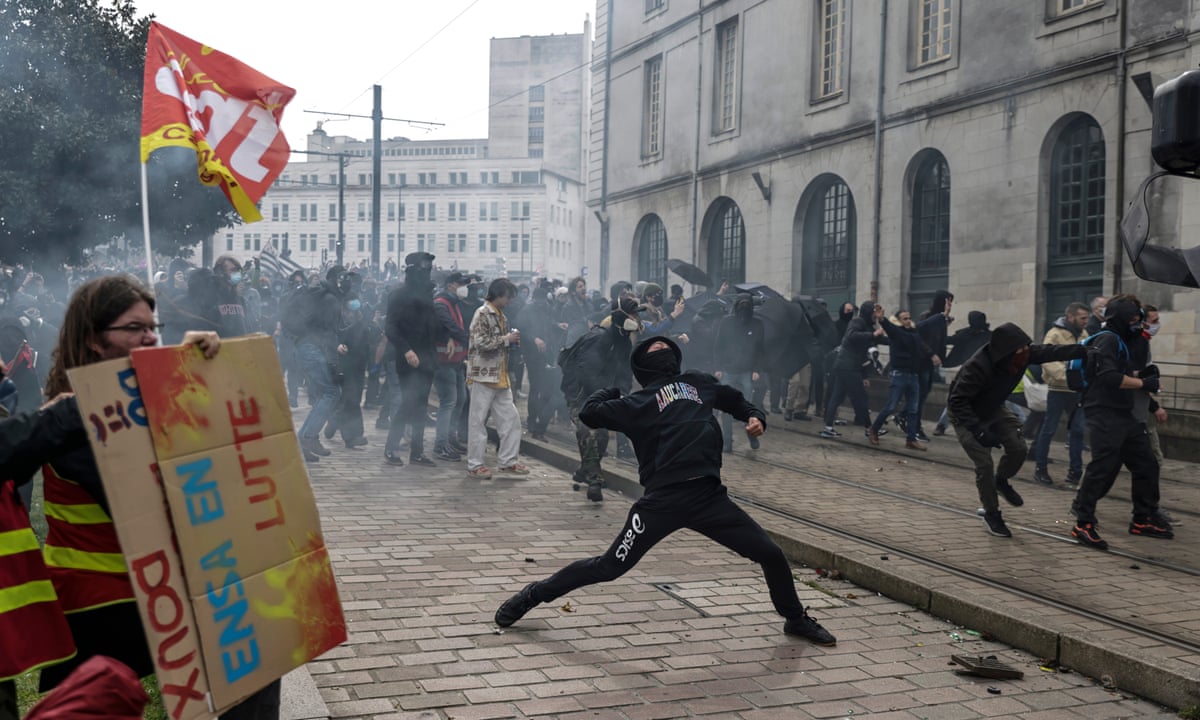 The video footage of 17 year old, Nahel's attempted escape from the police and subsequent shooting that killed him circulated on social media, sparking street protests which degenerated into flash rioting and smash-and-grab violence. Several cities then implemented a ban on demonstrations.
The video footage of his attempted escape and subsequent shooting quickly circulated on social media, sparking street protests which soon degenerated into rioting and smash-and-grab violence. Several cities then implemented a ban on demonstrations, as neighboring countries issued travel warnings. The escalating event was an echo of three-week-long riots in 2005, which were triggered by the death of two teenagers who were hiding from police. The insurrection forced the French government to declare a state of emergency.
Activists claim Nahel's ethnic background played a role in the teenager's shooting, an accusation denied by the police and the government. The French pride themselves in the famed secularism (or referred to as "laicité" in French) as a key foundation of the French Republic, guaranteeing equality for all citizens. This is enshrined in the removal of barriers of difference, including that of ethnic origin or race.
Nevertheless, a high number of folks of color residing in France feel that they are more likely to become victims of police violence, compared to their white counterparts. A 2017 study by Rights Defenders, an independent human rights organization in France, found that young people of black or Arab descent were 20 times more likely to be stopped by police for questioning, compared to their peers.
Thus, the eruption of anger and violence this time was not only about Nahel's death, but also the prevalence of such incidents in French society – even while French law prohibits the collection of data based on ethnicity, as this would imply discrimination.
Paris-based political analysts Eddy Fougier and Gerd-Rainer Horn surmised that when protests broke out elsewhere, the sentiment that emerged was perhaps an ambient, reflexive skepticism or dislike of authority. Why the French people enjoy protesting is unclear, but according to Fougier, it is part of a national "culture of conflict" that can be traced back to the French Revolution.
"We almost want to repeat the French Revolution over and over again," he theorized.