The Canadian men's program waited 36 years to get back to the World Cup, an achievement that can be traced to select moments and people.
DOHA, Qatar – Long before he became a national icon, Dwayne De Rosario primarily had access to one sport. His family, which had immigrated from Guyana, lived in a Toronto suburb, far below the tony bluffs that loomed above. They didn't sleep in one of the large houses with stunning cliffside views of Lake Ontario, didn't hike on nearby trails or eat at fancy restaurants. They stayed in what's called Metro Housing, on public assistance, a government social services program. He couldn't try hockey, because he couldn't afford skates.
But soccer? That sport, he could play. He started at age 3. He dribbled and passed and scored and dominated, until, at age 14, AC Milan called. De Rosario rejected the club's offer to join its renowned development program, because he couldn't fathom leaving home. Not yet. Not then. He signed his first contract four years later, joining the Toronto Lynx.
Back then, in a country that last made the men's World Cup in 1986, professional opportunities for Canadian soccer stars were scarce. This owed to a lack of resources and leagues and spotlight, not to mention shaky youth programs, a national team that rotated coaches like T-shirts and how hockey hogged the nation's attention.
Soon, though, De Rosario was off: to Germany (FSV Zwickau) and the United States (Richmond Kickers). Eventually, he landed in an established, if not yet mainstream, sporting endeavor—Major League Soccer. Created in 1993 as part of the '96 World Cup bid, MLS was growing. It started staging games in '96, with 10 teams divided into two conferences, then expanded to 12 franchises ('98), then lost two (2001) that went broke. But even when the league shrunk, executives never downsized their ever-expanding ambitions. And this sentiment applied especially to Don Garber, the MLS commissioner, who started eyeing Canada, a global footprint.
By 2006, De Rosario was one of the league's best players, a champion and MVP. His San Jose Earthquakes had moved to Houston, becoming the Dynamo, where that season it would triumph once more. Garber had made inroads up north that owed to a barnstorming tour of sorts, where he crisscrossed the country, peddling what came across as an absurd vision. Toronto, he insisted, would become the spot on a world map where anyone could pinpoint the future MLS success that he could so clearly see. The city, which didn't yet have a franchise, would become the blueprint, he said, for future expansion. He even gushed that he understood Canadians, what drove them and how soccer fit within that paradigm.
The locals laughed. Sure thing, buddy. But Garber plowed forward, in partnership with soccer officials in Toronto, like Larry Tannenbaum, chairman of Maple Leaf Sports and Entertainment, and Garber's own deputy commissioner, Mark Abbott.
By November of that year, all were ready to announce their plan. The audacity! Toronto would create a franchise and would commit to funding a new stadium. At the kick-off news conference, greeted by even more laughter, Garber heard all the usual gripes—Toronto wasn't much of a soccer city; hockey dominated like football in the States; and the beautiful game, while not absent from the sporting landscape, had never succeeded at the highest levels. A reporter asked, "How will you possibly measure success?" The questioner's voice dripped with sarcasm, and the implication—that expectations needed to fall somewhere near the floor—wasn't lost on Garber.
Still, he answered honestly. He had not yet so much as considered other franchises, in other cities north of the U.S. border. "The real measure will be if Canada can qualify for the World Cup," Garber said. "Until that, the work won't be done."
The audience laughed again.
---
Consider that day a flashpoint, one critical step, of many critical steps, that led to Doha, the World Cup and an I-told-you-so that never came. Canada now has soccer stadiums. Canada now has three MLS teams, in Toronto, yes, but also in Montreal and Vancouver. Canada now has budding player development systems and centers where prospects train with pros. De Rosario now has his own training center, DeRo United Football Academy for kids growing up like he did. Canada now has soccer fans.
Canada, after a 36-year absence, is back in the World Cup.
That day, of the press conference, wasn't the sole driver. Nor was MLS. But for a national soccer team in a hockey-mad country, it still marks a seminal moment, in two related and divergent ways. For a professional league to rise in stature in North America. And for a team up north to elevate from perpetual embarrassment onto the sport's world stage.
Don't take that to mean Canada has become some sort of juggernaut, with soccer soon to replace hockey as the national pastime. This is still a national team with four losses in four World Cup games. It's still searching for a first-ever World Cup goal, a quest it hopes to end on Sunday against Croatia. But it's young, it's building and it has a superstar in Alphonso Davies. And this is where recent events wrap to 2007. Davies is a product of those development systems, born in Ghana but bred in Canada, his career exactly what the country—and its partner—envisioned way back then.
Davies and his teammates didn't come here to collect caps, either. Their motto is fear nothing. Their coach, John Herdman, is fearless. (Just ask Croatia, after the controversy he created earlier this week.)
Somehow, this is all best explained by a sword. Herdman's staff found this particular foil, this long-and-thick-and-silver weapon that's meant to embody a warrior spirit. QATAR 2022 is carved into the base, next to a black leather handle, and a gold-circular endpoint stamped with a maple leaf. Before their qualifying games, and against Belgium in their opener here, the Canadians take this sword, stalk to the middle of the pitch and plunge steel into ground.
It's meant to remind them of their swagger, their ambitions. Just like the shields Herdman used before, or the speeches he delivers before the plunging. Own the ground, he tells them.
This all started, De Rosario notes, on that fateful day the Toronto franchise was announced. "I knew from that moment on, that was going to be a groundbreaking decision that would propel the sport the way we needed here in Canada," he says. "And you're seeing it. You're seeing it come full circle."
---
If true—and who would argue with a Canadian soccer legend?—the loop started 36 years ago, when FIFA held its 13th-ever World Cup in Mexico. While Canada advanced to the biggest tournament in sports for the first time, a couple of Nash brothers, not yet teenagers, were growing up in Vancouver. One, Martin, would choose soccer as his sport, becoming a player and a manager. His brother, older by one year, would choose basketball, instead. Safe to say, since that brother is Steve Nash, it worked out pretty well for both.
Martin cannot remember any particular games from that tournament, due to his age then (10), of course, and perhaps also because Canada lost all three of its games without scoring. What Martin does remember is how it felt. He saw World Cup soccer balls on display, flags from other countries displayed around town, more invitations to soccer camps and soccer-related events.
He met players from the national team, like Carl Valentine, and they inspired him to move forward in soccer, dribbling with feet rather than, like his older brother, hands. Valentine later became Martin's coach. He told stories, like from the 1986 game against France, which Canada kept scoreless until the 78th minute, before losing, 1-0.
To this day, Martin says, "I remember those stories." But he doesn't have anything to compare them to, other than his 14 years of experience on national teams that never made the World Cup. Now, though, he has this team, this run, two games left and maybe more.
"Yeah, they woke up again," he says. "People are delirious."
---
Frank Yallop just missed that World Cup appearance. Born in England, his father had moved the family to Vancouver in his youth. He went back to play for Ipswich Town in 1983, and by the time the next World Cup rolled around, he wasn't eligible to play for Canada. He didn't have a Canadian passport, and the rules at the time allowed for only two "foreign players," and the allotment was already filled.
The rules changed, though, and Yallop joined the national team in 1990. In his last year as a player, '97, young Martin Nash joined the side. Yallop would later coach Nash, while managing Canada from 2004 to 2006.
Throughout that time, Yallop says Canada had its chances to return to the tournament. He points to the 1994 group in particular. Led by an ace defender, Bob Lenarduzzi, Canada advanced through the second stage of qualifying, as its group's runner-up. But a controversial penalty against Honduras cost Canada a win, and a blown lead against Mexico, in Toronto no less, sent The Reds to an intercontinental playoff. They needed to win two rounds to advance. In Round 1, they beat Australia in the first match 2–1 (at home), but lost the second 2–1 (in Australia), which meant not just extra time but extra time to decide who would advance. After 30 scoreless minutes, the teams engaged in a penalty shootout. Australia won, 4–1.
"That team was well-equipped to go to the World Cup," Yallop says. "And we could have done O.K. It wasn't to be, obviously …" He trails off, while on the phone from California, where he's the sporting director and coach for Monterey Bay FC.
When he resumes speaking, he says, simply, "It has been way too long for us to get back to the World Cup."
Canada didn't do that in 1998, nor in 2002, '06, '10, '14 or '18. Why? "It kind of died," says Nash, now the manager for York United in the Canadian Premier League (where De Rosario's 21-year-old son, Osaze, is a forward). "There weren't a lot of opportunities to make a career. It wasn't a year-round job, or a full-time job, at that time. Canadian soccer was on a downward slope."
After the 1994 run, the national team aged, then rebuilt. By 2000, the same year Davies was born, it managed to win the Concacaf Gold Cup. "But there were a lot of things going on behind the scenes, with Canada soccer and funding and everything else," Nash says. "Soccer went backward. Changed managers a lot. Never really got a flow going."
The lack of professional soccer in Canada remained a critical impediment, he says. Players on the national team flew in from all over the world, their side slapped-together, with no time to train, let alone perfect a rhythm. After he went into coaching, things didn't improve; they worsened. Canada was shellacked by Honduras, 8–1, in Cup qualifying in 2012. Two years later, it fell to 122nd in FIFA's world ranking. "We weren't very prepared," he says. "That was the biggest problem back then."
Enter MLS.
---
When Toronto made MLS a two-country professional soccer league, the ground floor needed to be renovated first. That meant development programs, scouting, facilities and training upgrades. That meant progress, but not the kind that's obvious right away.
MLS mandated youth academies in both countries. The build began. Prospects rose up through a pyramid, playing for second teams, before joining the top ones. They went to Europe, or elsewhere, received instruction, grew and came back, raising the level of competition.
The Canadian Soccer Association worked in tandem with MLS officials, establishing its own pro league, widening the path for players to improve. Stars like De Rosario inspired. And that fickle beast, momentum, began to build. Just not in time for DeRo, who notched 81 caps for the national team, from 1998 to 2015, who won titles and accolades but never a game that would advance Canada to the World Cup. Back then, he says, it had "unbelievable" players, but never more than a few and never enough depth. And, as Canada became more competitive at lower levels, Concacaf squads also elevated, making qualifying more competitive, making it harder to advance.
Consider 2007 to now a slow build that was only revealed to a wider audience more recently. Canada aligned its national teams, from the youngest to top side, to play the same attacking, soulful styles. It created a deeper talent pool by scouting young players in every province. With more resources, players could play soccer full-time.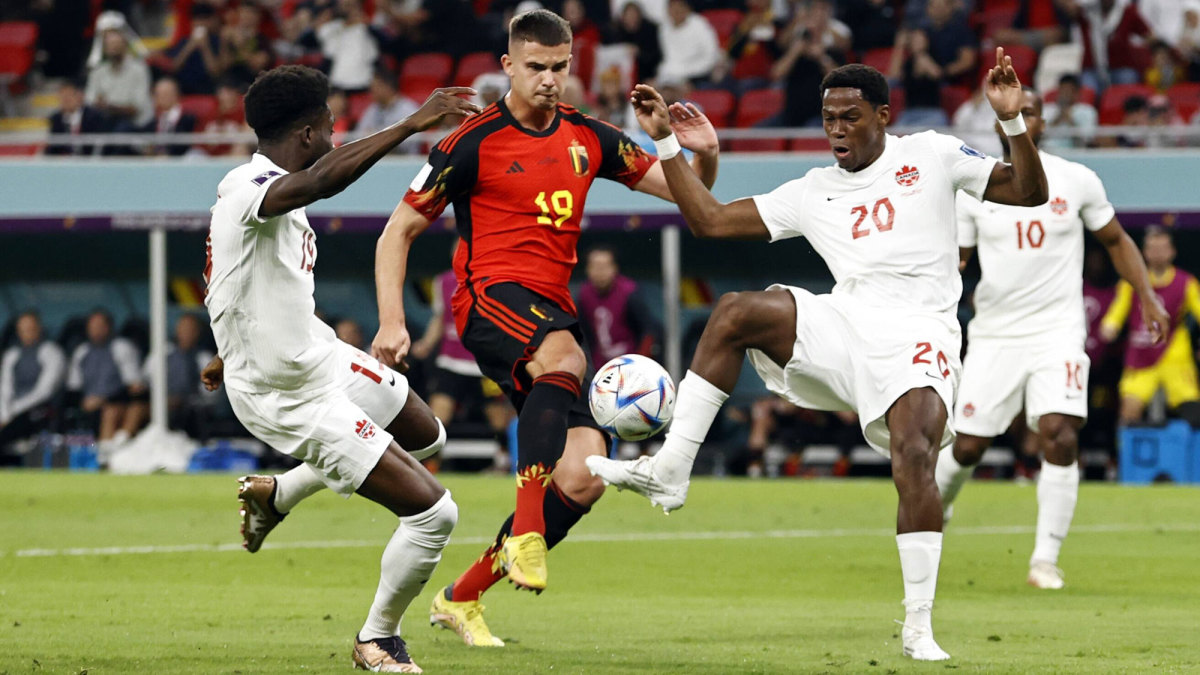 Herdman arrived in 2011 and turned around the women's national team, winning Olympic bronze medals in '12 and '16. Two years later, officials shifted him to the men's squad. All that development had netted young Canadians who were contributing in Europe, from Davies (Bayern Munich) to Jonathan David (Lille), Cyle Larin (Besiktas) and Tajon Buchanan (Club Brugge). Most were too young to feel the weight of the history they were confronting. All but one player on the current World Cup roster—39-year-old captain Atiba Hutchinson—was born after the drought began. Lads, their coach called them, accurately and affectionately.
He injected the young talent with his unwavering confidence, which was evident after Canada's first World Cup match in 36 years. Sure, Belgium won, 1–0. But Canada did everything against an international power but score. Then their coach inadvertently flexed their collective mentality, answering a question at the post-match news conference with a "we're gonna go and eff Croatia, that's as simple as it gets."
This created a mild international incident, the kind that's welcomed here, because it's not related to geopolitics or the deaths of migrant workers. One tabloid in Croatia slapped Herman on the cover, his head superimposed on a naked body, his mouth and his private parts covered with a pair of strategically placed maple leaves.
Whether unintended disrespect or gamesmanship, the message had been delivered, though. Canada belonged. It had Davies, the superstar speedster and Champions League title winner, who grew up in Vancouver and developed at the Whitecaps Academy and went to Bayern Munich. It played with a discipline tactical framework that had been absent years ago. It had depth, borne from all the work the rest of the world couldn't see until recently.
More proof: Alecko Eskandarian, the retired American footballer who went into coaching and then became a development executive for MLS, plays in a tri-state men's league with Steve Nash. Eskandarian sometimes asked the basketball wizard why he chose hoops over hockey or fútbol. Soccer, Nash told him, just wasn't that popular. Now, at least it's moving that way.
Which meant that folks like Nash's younger brother, the soccer-playing Martin, says the national team's sprint into this World Cup surprised him. So much so that he hopes the soccer newbies can manage their expectations. Yes, Canadian soccer is exciting, from the players to the style to the technical expertise. Yes, Canada now belongs on a world stage. It's building on the buzz, as evidenced by the hundreds of interview requests De Rosario says he has received in recent months. "Enjoying every moment," says the Canadian soccer hero who never did reach this stage. "Riding the wave. Watching Davies, his poise—he's fearless, driven passionate. He plays with that joy."
But Martin Nash would prefer that everyone temper their hopes, for now.
"They have maybe too high of expectations," he says. "But (the team) earned that with how they did in qualifying."
Garber, here for the World Cup and the American team that will play Iran Tuesday for a spot in the knockout stage, went to Canada's opener as well. The countries share both a formal rivalry and large ambitions for the next tournament, where both will play host, along with Mexico, as the three largest countries in North America all build toward the same moment. This portends moments and momentum and continuing the growth of soccer in that part of the world. Hence why Garber, a Queens native and American sports executive, arrived at Ahmad bin Ali Stadium wearing the only appropriate accessory: a maple leaf.
Source : SI